Nine-year-old Yazidi sex slave raped by 10 Isis militants is now pregnant
A nine-year-old girl who was taken as a sex slave by Isis was raped by 10 militants and is now pregnant, it has been reported.
According to an aid worker, the girl is a member of the Yazidi minority religious group, which faces persecution across Isis-held territory.
She has been flown out of Iraq by a Kurdish aid agency, the Toronto Star reported, and is now being treated by a medical charity in Germany.
But Yousif Daoud, a Canada-based aid worker who has just returned from the region, told the Star the girl was "mentally and physically traumatised" after the abuse she had suffered, and there are fears she may yet not survive her ordeal.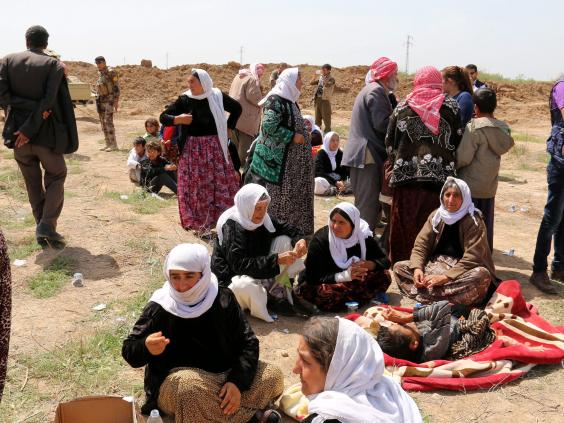 Iraqi Yazidi women are seen at the entrance of a checkpoint in Kirkuk after their release by Isis (EPA)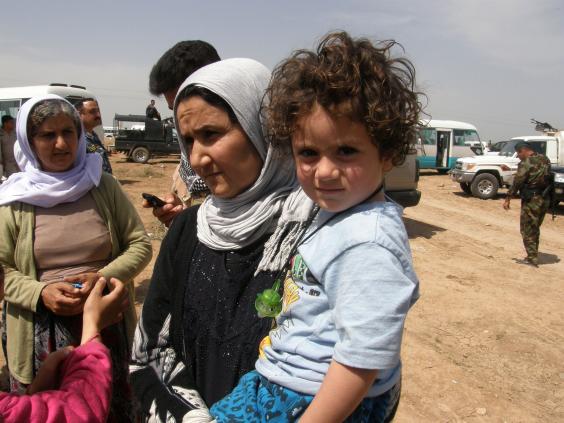 More than 200 abused Yazidis, including 40 children, were freed by Isis militants who had been holding them captive since last summer (Reuters)
"This girl is so young she could die if she delivers a baby," he said. "Even a caesarian section is dangerous."
When she was found the girl "was in very bad shape", Daoud said. "She was sexually abused by no fewer than 10 men. Most of them were front-line fighters or suicide bombers who are given girls as a reward."
Isis released 216 Yazidis on Wednesday after holding them captive for eight months, in a mass release that some see as a sign of the increasing pressures put on the militants by US-led air strikes and an Iraqi ground offensive.
But Daoud, speaking under a pseudonym, gave a very different reason for Isis to release women and girls who its militants have already abused.
He said they faced the stigma of lost chastity among the conservative Yazidi society. "Sending back those girls and women is a way of shaming the whole community."
The kidnapped nine-year-old girl was among hundreds of kidnapped girls and women who had made their way back to Kurdish-controlled land prior to Wednesday's release.
But another 40 children were among the more than 200 newly-freed captives. The rest were mostly elderly – and all bore signs of neglect and abuse.